Omega Technical Solutions Blog
Omega Technical Solutions has been serving the Haymarket area since 2007, providing IT Support such as technical helpdesk support, computer support, and consulting to small and medium-sized businesses.
How to Keep Out-of-Office Employees Engaged in Office Culture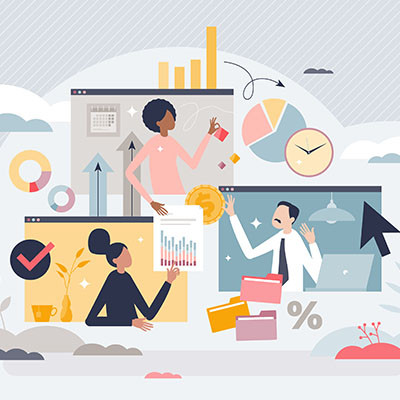 In today's age of remote and hybrid operations, engaging your employees has never been more important. People want to feel like they belong, like they are connected to their coworkers and colleagues. What can you do to encourage this type of connectedness that might not always be so easy when your workforce is scattered about?
We have a couple of ideas to share with you for how you can promote a more connected and engaged remote and hybrid workforce. Here are three of them.
Normalize Transparent Communications
It turns out that people really like being involved in conversations and communications rather than the important details being discussed behind closed doors. A good example of this is using your instant messaging platform for special announcements and to foster conversation about particular topics. Email might be best for certain conversations where only one or two people need to be involved, but when it comes to building relationships and camaraderie, the more people that can be involved, the better.
Encourage Employee Resource Groups
Employee resource groups are a great way to encourage your team to get to know each other. For those unaware, employee resource groups are generally managed by a volunteer who puts together events for those with similar interests, hobbies, or life circumstances. Employee resource groups are great ways for your team to connect with one another, especially with others from different departments, as it can often be the case that remote or hybrid employees rarely communicate with other parts of the organization unless on official business.
Host Informal Virtual Meet-Ups
Meet-ups and fun events don't have to be exclusively for your office's in-house employees. In fact, you could be isolating your remote and hybrid employees by not providing them opportunities to engage with the rest of your business. Planning for regular informal meet-ups where people can mingle, come and go as they please, and just enjoy the company of others within your organization is crucial to fostering a sense of belonging and inclusiveness for your remote and hybrid employees. There are all kinds of possibilities for these types of meetings or events, including virtual game nights, social hours, and so on.
Implement the Technology to Make It Happen
Of course, your remote and hybrid team will need to have the appropriate technology solutions in place for them to contribute to these types of events and activities. While we assume that they have these tools already at their disposal if they are working remotely or in a hybrid setting, you should take the time to ensure that they have quality tools at their disposal, including good-quality microphones and webcams so their involvement during these types of meetings and events can be crystal-clear and pleasant for everyone involved. If implemented properly, the right technology can make your employees feel like they're in the office with everyone else.
What are some ways your company has overcome the barriers to interpersonal communication presented by remote and hybrid workspaces? Be sure to leave your best tips and tricks in the comments below, and subscribe to our blog so you don't miss more articles like this in the future!
Comments
No comments made yet. Be the first to submit a comment